In this post, we're going to show you the absolute 10 best WordPress directory themes available today. Before we show them to you, we're going to explain exactly what sets them apart from the competition and how they can help you create stunning sites that your customers will love.
Let's face facts, your business directory needs to offer your advertisers and readers something special if it's ever going to make the jump from project to profitable business. And unfortunately, if you use WordPress, many of the directory themes available just don't make the grade: they're outdated, look dull and lack functionality.
But not all. Some of the newer WordPress directory themes are quite exceptional, giving you a huge array of useful features to manage your business, entice more advertisers and help your users seek and find the information they need – where ever they are. These themes give you the power to generate substantial revenues with local, niche and national directories.
What makes a great WordPress Directory Theme?
The first thing you notice about modern directory themes is the massive improvement in the way they look. They give you the potential to present your advertisers to your users in stunning ways. Many themes have front page interactive maps, video and gallery headers, photo icons for categories and eye-catching layouts, fonts, and colors.
Everything you need to run your business
As an owner of a directory website you'll have some key requirements. You'll want the ability to create membership levels where advertisers that choose more expensive packages get a wider range of features, You'll need to offer a range of payment options and be able to choose different payment gateways. You'll also want front end user areas for your advertisers so they don't have access to the WordPress admin panel. These themes offer all these features.
Of course, when you purchase a directory theme, you will also need free updates and fast, dependable customer support from the developer. These are included in the price. As is the slick coding that provides quick loading times, site customization, built-in child themes, and the ability to create custom fields and custom forms. You also get assured compatibility with all the other plugins and add-ons you use.
Making the most of a responsive directory themes
If you have a responsive theme, you need to take advantage. This is where these themes come into their own. Imagine a visitor on your site looking on their phone for a restaurant. On the screen is a map showing their location and all your advertizer's restaurants in the vicinity are clearly marked. If they select one, the directions appear. And this is just the start…
App-like customer experience
These themes don't merely show your visitors the name of the restaurant and how to get there; they can also show the menu, opening times and customer reviews. This goes way beyond the old style directory themes that offered nothing more than a phone number, email address and a link to their website. Which business, these days, is going to pay you for that, anyway? With the directory themes we are showing you, you can offer your advertisers far better ways to engage with your visitors.
The themes we've selected provide your advertisers with a host of features that will really make signing up to your directory a worthwhile investment. These include: image galleries, videos, vouchers, booking and reservations, direct messaging, e-coupons.
Similarly, we've looked for directory themes that will help your reader to be able to search, refine-search and navigate your website with ease and we also wanted themes where the search results bring relevant results for your readers.
Ultimate advertiser experience
Beyond these features, there are other opportunities which can be offered to your advertisers. If they want to update information, they can do it at any time, via their account page. Got a customer having a flash sale? Launching a new product? Running a competition? Sponsoring an event? Give them access to the blog as part of their membership and they can post an update and reach everyone who is signed up to your newsletter plus all your Facebook and Twitter followers instantly – they can even send out a discount vouchers, invites and competition entries. This is the kind of functionality that your advertisers will really find useful and at the same time is something users will also want to subscribe to.
So, which WordPress Directory Themes make the grade?
We've put the best of them below. Not all of the themes have all the features we mentioned above, but you'll find most of them have many of the features and some have features we've not even mentioned. We hope you like our choices.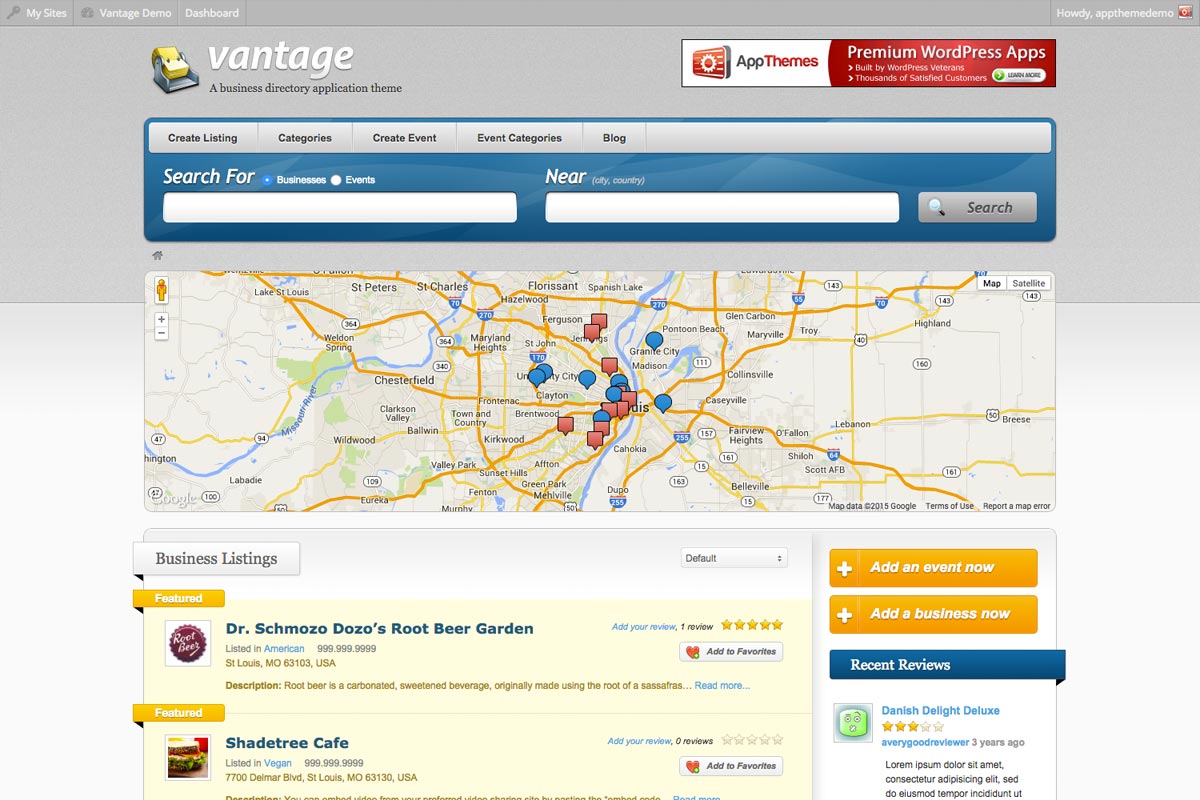 By Kevin O'Hara
Related Posts via Taxonomies